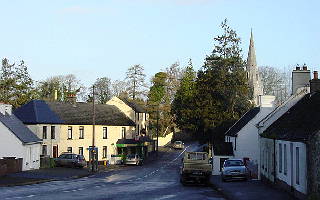 Welcome to Rosenallis.
Rosenallis is a small historic village nestled in the foothills of the Slieve Bloom Mountains in north County Laois. The present village of Rosenallis is of Quaker origin and dates back to 1659 when the 'Society of Friends' were led here by their founder William Edmundson, who died in 1712 and was buried at Rosenallis in the oldest Quaker burial ground in Ireland. The name Rosenallis is derived from the gaelic 'Ros-Fionn-Glaise' meaning 'The wood of the clear stream.'
Today Rosenallis parish has a population of around 600 and is home to a wide variety of sporting, community and social groups. Click on Community Groups above to find out more.
We extend a very warm welcome to all visiting this site and hope that you find it useful.
Click here to contact us.